The photo below shows the 91A-7230 second/high shifter fork used in the 81A-7222 housing. The part number was cast in slightly raised digits toward the top of the "yoke" part, on the forward face. The number is hard to see once the fork is assembled to the housing. As you can see in this picture, the tips of the fork are as wide as the rest of the fork and extend outside of the squared-off tip section.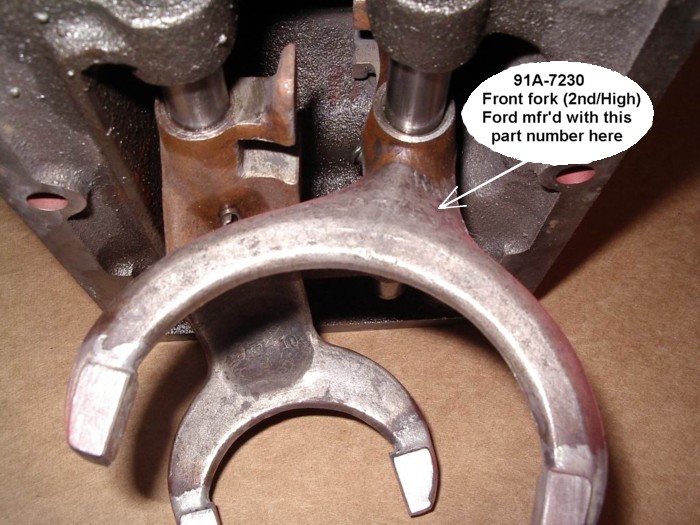 The photo below shows the 91A-7230 fork width as measured by a common ruler. The space between the fork tips is just under 3" wide. The earlier transmissions used a smaller fork that measured about 2¾" across. The earlier fork extended down from the housing in a plane a bit forward of the 91A fork. This was to accommodate the early synchro sleeve, which had the shifter fork groove in the middle. The 91A fork shown here was offset to the rear slightly, which allows it to fit properly into the late style synchro with its fork groove at the back edge. Beware of "modifications" to an early style fork (ie: grinding down the inside edges of the fork to allow the 3" spacing. This would allow the fork to fit the late style synchro sleeve, but it would be positioned too far forward for proper shifting.
The pictures below show a bare 81A shifter housing from the top and the bottom. You can see where the part number is placed on the housing's top front surface. The picture on the lower right shows the placement of the shifter shafts, the plunger, the balls and springs, and the detent plugs. The center plunger can only be accessed if the shifter shafts are removed, which is done through the access openings at the front of the housing. Also shown, below left, is the 68 series shifter housing, with the single spring detent arrangement. In this type, both detent plungers and the single spring all fit between the shifter rails when assembled. The smaller thumbnail pictures with the exploded parts views shows both shifter forks in the "neutral" position for both rails. This is the position you want when removing and installing the shifter tower assembly. The early shifter housings (B-7222 and 40-7222) included the B-7235 shift lever guide plate, which wrapped around the two shift rails. This was eliminated beginning with the 1935 housings and the change to the 40-7230 and 40-7231 shifter forks for 1935 production.
Click on thumbnail photos for enlarged pictures