Ford Top Loader Three Speed Transmission

Home Parts Drawings Web Links Tune-Up & Service Serial Numbers Engine ID Trans Identification Model ID Terms of Sale Contact Us Our Online Store Our Catalog
Transmission Mounts (rear bearing retainer)
The rear bearing retainer (7085) on all Ford transmissions from 1932 to 1948 cars (and through 1952 pickup trucks) was also the rear mount for the back of the motor. This part bolted to the rear face of the transmission case with five or six bolts and combined the function of retaining the rear ball bearing, providing a connection point for the torque tube driveshaft assembly (or open driveshaft for 1942-53 pickups), and providing a rear support for the transmission and engine assembly.
The earlier style rear mounts were similar to those pictured here, but had the vibration rubber formed into a ring which was sandwiched in the rear mount (between the transmission and the mount). In 1937 Ford changed to the style mounts shown further below, which had two "ears", one to either side, which mounted to the frame's center mount with two rubber donut type vibration isolators.
All the rear bearing retainers use a gasket between the mount and the transmission case. All (except the 21C-7085) also use a gasket between the mount and the torque tube bell adapter assembly.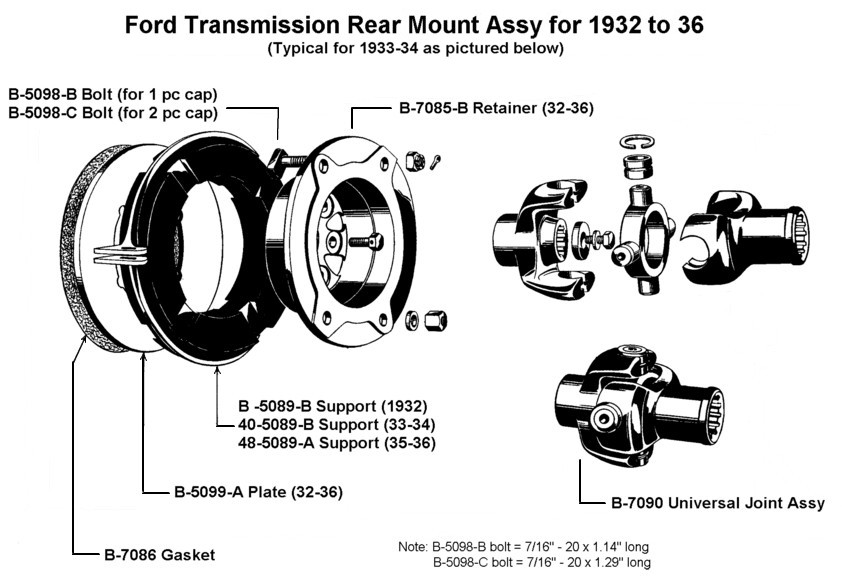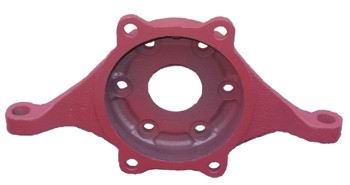 The 78-7085 mount shown above was used for 1937 to 40 Ford cars, and light trucks from 1937 to 1941. The mounting ears had
a 10" spacing between the centerlines of the two bolt holes.

The 99A-7085 mount shown above was listed for the 1939 to 1941 Mercury V8, and for 1941 Ford V8 passenger cars, and for the
1941 to 42 Ford Six passenger cars. It had an 8" spacing between the mounting bolt holes.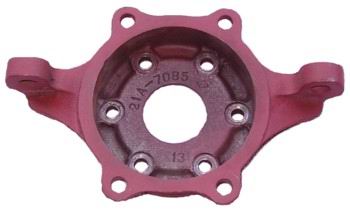 This is the 21A-7085 mount above, which was introduced for the 1942 Ford and Mercury (V8 and Six), and used through 1948.
It is very similar to the 99A-7085 mount, including the 8" spacing between bolt holes.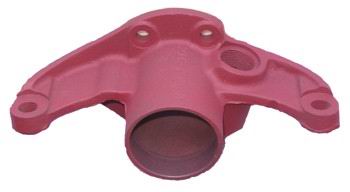 This is the 21C-7085 mount above, which was introduced for 1942 Ford light duty pickup transmissions and used through 1952 models. This is the Open Drive rear mount. You can see the hole on top for the speedometer drive. The opening to the rear would have the 21C-7052 grease seal pressed in. The spacing between mounting holes is 8" wide. NOTE: Although the parts manuals identify this part as the 21C-7085, the actual number shown on the casting is 21C-7049-A (for the three speed transmissions in pickup trucks). The 21C-7049-B is the same style rear mount, but designed to work with the truck 4 speed transmission, and uses a larger oil seal (01T-4813).