Flathead Ford Valve Removal Tools

Home Parts Drawings Web Links Tune-Up & Service Serial Numbers Engine ID Trans ID Model Identification Terms of Sale Contact Us Our Online Store Our Catalog
Valve Removal Tool Rental Program
Most of the special tools for removing the Ford flathead valve assemblies are no longer made. There were several specific tools that had unique capabilities, and make short work of a difficult job. We have combined the three most popular tools into a kit that is available to rent for your job. The kit does not include the valve spring compressor tool (also knows as the "pickle bar" tool) but that tool is available to purchase at a reasonable price. Our rental rates are:
$ 50.00 for a 2 week rental *

$ 75.00 for a 1 month rental *
* Rental rates are based on the full time (including transport time) from the day the kit leaves our warehouse until the kit is received back to our warehouse. Rental rate does not include the cost of shipping. Rates are FOB our warehouse in Ohio. We ship via UPS Ground and will provide a return shipping label with the shipment. Rentals are only available in the continental USA. A credit card deposit of $200.00 will be charged up front. The card will be credited upon return of the tool kit, less the appropriate rental charge, the shipping charges to and from the customer, any charges for lost/damaged tools, or cleaning charges. Tools must be returned in clean condition. Credit cards accepted: VISA, MC, DISCOVER, and AMEX.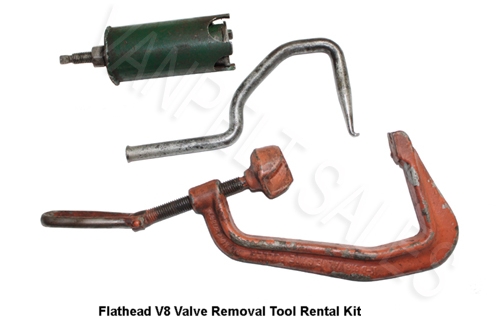 To rent the kit simply contact our sales office during regular business hours, and we will set up the rental. We keep several of the kits in stock so availability is generally not a problem. If you wish to purchase the VGBT valve spring compressor tool, you buy that from our sales office or the online store.
Office Hours
Monday thru Thursday 9:00am to 5:30pm Eastern Time
1-800-299-7496
Return to Flathead V8 Valve Removal Tech
Copyright 2017 - VANPELT SALES LLC - All rights reserved